We Are A Trusted
&

Reliable Roofing Contractor
Supreme Renovations is the best company to choose for roofing needs because we are the best at what we do and 100% guarantee you'll be happy with your new roof! Our team will guide you through our quick and easy process for picking out the right color and materials for your specific project.
Our 5 Step Process is upfront, quick and easy:
Our roofing contractor will meet with you to discuss your needs.
You'll select the type of roof you want and color.
We collect a 50% deposit with a signed contract.
Installation of your new roof.
Wrap up meeting to review the job and ensure you are 100% satisfied. At this time we collect final payment.
See What Customers are Saying
TYPES OF ROOFS WE INSTALL
Shingle
Shingles are by far the most popular type of roof covering.  We offer a complete line of energy efficient shingles in many different styles and colors to suit your desired look.  For most jobs, we do a complete tear-off so we are able to check for any rotten wood underneath old shingles.  After the inspection is complete, we'll install the vapor barrier to protect the wood.  Lastly, the shingles will be installed. Completely replacing your roof not only fixes any previous problems you had but will also give your home a brand new look!

Metal Roofs
Did you know…….. Metal roofing is a durable, weather-resistant roofing solution for agricultural and residential projects. The panels not only provide excellent protection against the elements and increase the life cycle of your roof but they lower the need for maintenance on your roof. AG Panels are a cost effective, high performance metal roofing system.
When properly installed, a metal roofing system will withstand inclement weather (high winds, hail, snow and rain) better than any other roofing material. Metal easily sheds snow and ice and does not absorb water which can lead to cracking and rotting in the freeze-thaw cycling in other roofing materials.
Here are the color choices for Metal roofs.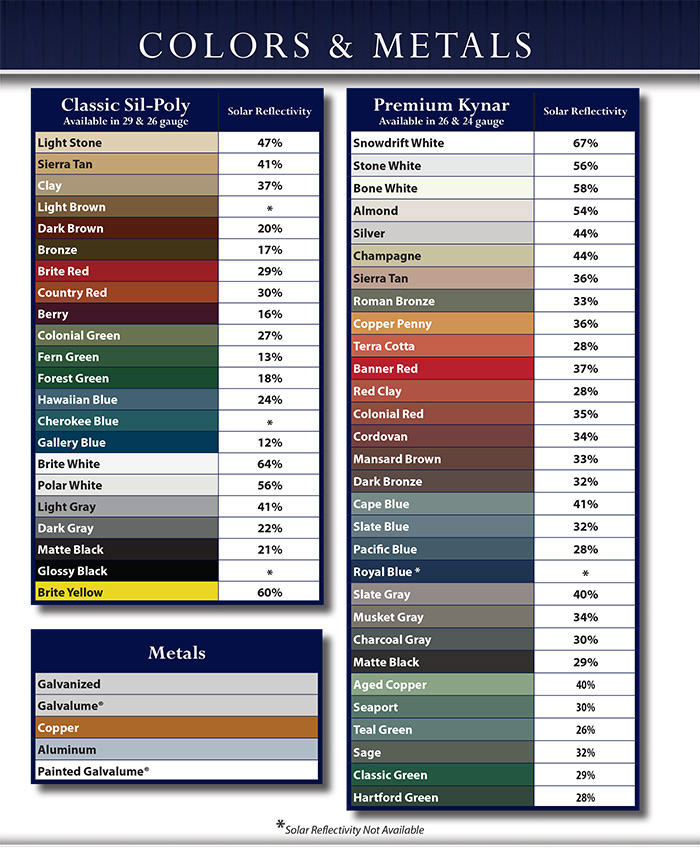 Unsure if now is the time to call, ask yourself these questions:
Is your roof leaking and causing damage to the inside of your home?
Is your roof old and in need of replacement?
Is your roof missing shingles or metal?
If you answered YES to any of these questions, call us today to schedule an appointment for a FREE Estimate!